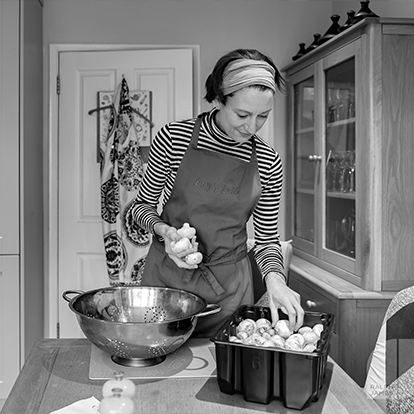 Having worked in media for most of her career, the COVID-19 pandemic of 2020 instigated new beginnings for Lucy. Furloughed from her sales and marketing role in video production, she wanted to help her local community – so she began donating vegetable soup to doorsteps of neighbours who were struggling with the virus.
Within a few weeks a new business – Lucy's Ladle – was born as people started to express an interest in delivery of home-cooked, healthy food. Lucy discovered just how much she wanted to immerse herself in the world of plant-based nutrition – and began to expand her offering of soups to also include stews, curries and casseroles, as well as roasted vegetable salads. Her customer base continued to grow, and her catchment area spread.
Two years on and with opportunities of retreat cheffing beginning to appear on the horizon, in 2022 Lucy took the decision to move into food full-time. Catering residential retreats and yoga events has now become an integral part of her portfolio, as well as running 'healthy tips & tricks' workshops from her home kitchen in Surrey.
Lucy's aim is simply to nourish people and inspire them to eat more healthily by proving that conscious eating doesn't have to be complicated or costly…. And is certainly always very tasty!