Stuffed Peppers with Quinoa and Cashews
Stuffed Peppers, we love you! This is one of our favourite dinner recipes.
Stuffed Peppers brimming with quinoa and cashews is a staple in our house. To start, quinoa is so good for you. Standing as a great source of iron it is perfect on a vegetarian yoga retreat where you are doing 4 hours of yoga a day! Of course, energy is key and healthy energy at that.
Read below and give it a try!
Stuffed Peppers Ingredients
(Serves 4)
– 4 red or yellow peppers
– 1.5 organic vegetable stock cubes
– 1 heaped tsp mustard (optional)
– ½ cup broken cashews
– 2 cups quinoa cooked al dente
– 1 cup grated carrot
– 4 tsp olive oil
– 2 tsp red wine vinegar
– 4 tsp parsley, finely chopped
– Salt and pepper to taste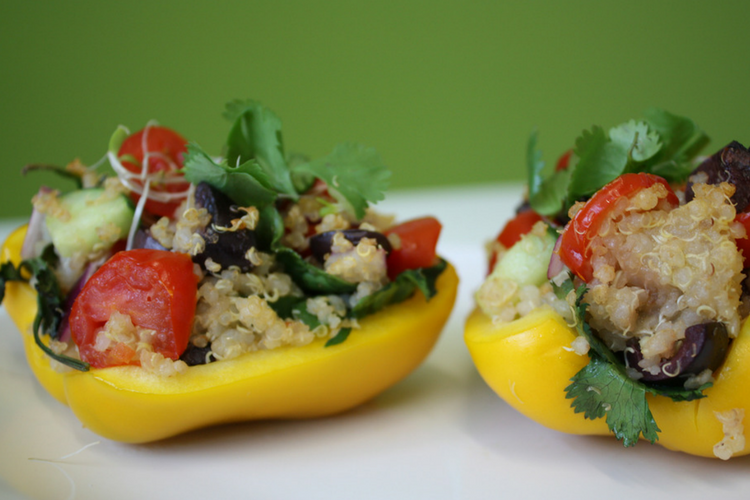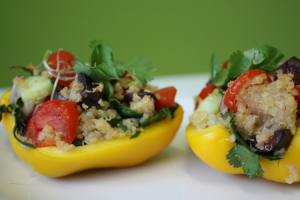 Stuffed Peppers Method
– To start, preheat oven to 175 degrees C.
– Cut the centre out of the peppers by cutting the top end (where the stalk is), twisting it off and then removing the pith carefully. Place the pepper on a shallow baking tray and cook in the oven for 10 minutes, until they soften. Then remove and leave to cool.
– Then, in a large mixing bowl mix together all the remaining ingredients and season well, remember that the peppers will draw some of that flavours out so making a little strong to begin with.
– Stuff the mixture into the peppers and return to the oven for a further 15-20 minutes until they brown on the top.
– Finally, serve your stuffed peppers immediately or leave to cool and serve with salad either way.
Very simple and a great one if your fridge is looking a bit empty!
Quinoa has the eight essential amino acids, meaning that it can be classed as a complete protein. It also has high levels of tryptophan which plays a role in the circadian rhythm, or sleep cycle as well as mood stability.