Corfu in August – Everything to See & Do | Corfu
Corfu is a Greek island located in the Ionian Sea, known for its stunning beaches, crystal-clear waters, rich history, and vibrant nightlife. August is one of the busiest months on the island, as it's peak tourist season. But don't let the crowds deter you from visiting this beautiful destination! In this blog, I'll share my personal experience of traveling to Corfu in August, including tips on where to stay, what to do, and how to make the most of your time on the island. Whether you're a solo traveler, a couple, or a family, there's something for everyone in Corfu, and I hope this blog will inspire you to plan your own unforgettable trip to this paradise in the Ionian Sea.
Corfu Weather in August
August is one of the hottest and driest months in Corfu, with temperatures ranging from an average low of 21°C (70°F) to an average high of 31°C (88°F). The island experiences a lot of sunshine, with an average of 12 hours of sunlight per day, making it the perfect time to hit the beach and soak up the sun. While rain is rare in August, there is still a small chance of occasional showers, so it's a good idea to pack a light rain jacket just in case. The sea temperature is warm, usually around 25°C (77°F), making it ideal for swimming and water sports. Overall, the weather in Corfu in August is perfect for those who love hot and sunny weather, and it's the ideal time to enjoy all the outdoor activities that the island has to offer.
Festivals and Events in Corfu in August
August is the month for village festivals across Corfu. Events in full swing every week during the sunny Ionian summer!
Benitses Sardine Festival
This annual festival celebrates the rich fishing heritage of the village and pays homage to one of its most renowned local delicacies, the sardine. The festival typically takes place in early August and attracts locals and visitors alike who come together to enjoy a day filled with culinary delights, live music, dancing, and a lively atmosphere. We have not been able to find the 2023 dates yet but if you're a fish lover, keep an eye out for this fantastic culinary experience!
The Celebration of the Pantokrator Monastery
The Pantokrator Monastery holds great historical and spiritual importance. It was founded in the 14th century and has since served as a center of Orthodox Christianity on the island. The celebration typically takes place on August 6th, coinciding with the Feast of the Transfiguration of Christ. Devotees and pilgrims from all over the island, as well as tourists, gather at the monastery to commemorate this important religious event. The celebration includes traditional music, folk dances, and cultural exhibitions. Visitors have the opportunity to experience the rich cultural heritage of Corfu through performances of local music and dance groups. Traditional food and drinks are available, allowing attendees to indulge in the island's culinary delights.
For many, the Celebration of the Pantokrator Monastery is not only a religious event but also a chance to connect with their heritage, strengthen their faith, and experience the sense of unity that comes from participating in a centuries-old tradition.
International Dancing Festival
This vibrant festival has been held annually since 1997 and is a celebration of traditional Greek dancing and music. It takes place in the summer and changes months each year. This year it is being held in September, 6th – 10th. So if you're thinking of visiting Corfu in August, this is worth extending your stay for.
The Varkarola
The Varkarola festival celebrates the miracle of Saint Spyridon, who locals believe saved the island from the Turkish invasion on 11 August 1716. Locals celebrate this day with a recreation of a nautical battle. boats parade along Paleokastritsa Bay, while traditional music and dancers entertain the public. At the end of the Varkarola, a boat is set on fire and there is a giant fireworks display to commemorate the burning of the Turkish naval fleet during the eighteenth-century siege. If you get a chance to experience this, it is a sight to behold!
Best Places to visit in Corfu in August
The Paleokastritsa Monastery
Explore the picturesque Paleokastritsa Monastery, perched on a hilltop overlooking the stunning turquoise waters of the Ionian Sea. Marvel at the breathtaking views from the colourful monastery grounds and take a moment to admire the Byzantine architecture. The monastery also houses a small museum that showcases religious artifacts and offers insight into the island's history.
Mount Pantokrator
This is one for our hiking lovers. Mount Pantokrator is the highest peak in Corfu, so get the hiking boots on and traverse through scenic trails, lush forests, and charming villages as you make your way to the summit. At the top, relish in panoramic vistas that stretch across the island and beyond. On a clear day, you may even catch a glimpse of neighboring islands. Don't forget to bring your camera to capture the mesmerizing beauty of Corfu from above.
The Channel of Love
You know we love the beach, so this is a must see in Corfu! Dive into the crystal-clear waters of the Channel of Love, a natural rock formation located near the village of Sidari. This unique geological formation features narrow channels and secluded coves, perfect for swimming, snorkeling, and sunbathing. Legend has it that couples who swim together through the channel will experience eternal love, but don't take our word for it – you gotta try it yourself!
Best Things to do in Corfu in August
Just when you thought there was enough to keep you busy in Corfu, we have a few more things to add to your to do list that will really give you an unforgettable adventure.
Sail around Paxos
Set sail from Corfu and venture to the nearby island of Paxos, a hidden gem in the Ionian Sea. Enjoy a day of island hopping, exploring secluded coves, and soaking up the Mediterranean sun. The journey is just over an hour and is truly the perfect outing to complete your trip to Corfu.
Visit Agni Bay
Make your way to Agni Bay, a picturesque and tranquil fishing village on the northeastern coast of Corfu. Surrounded by lush greenery and azure waters, Agni Bay is a serene escape from the bustling crowds. Lounge in the sun and indulge in a delicious meal at one of the waterfront tavernas, renowned for their fresh seafood and local specialties. It is the perfect destination for those looking to relax with a good book and unwind.
Explore the Old Town
Immerse yourself in history and culture by exploring Corfu's captivating Old Town. Wander through narrow cobblestone streets, lined with colorful Venetian-style buildings, elegant mansions, and charming squares. Discover the iconic Liston, a grand promenade inspired by the Rue de Rivoli in Paris, and visit the impressive Old Fortress, which offers panoramic views of the town and the sea. Explore the myriad of shops, boutiques, and artisan workshops, where you can find unique souvenirs and locally made products. The Old Town is a UNESCO World Heritage site and a treasure trove of architectural wonders and cultural treasures. Check out this guide to Corfu's Old Town Cafes by Travel.gr.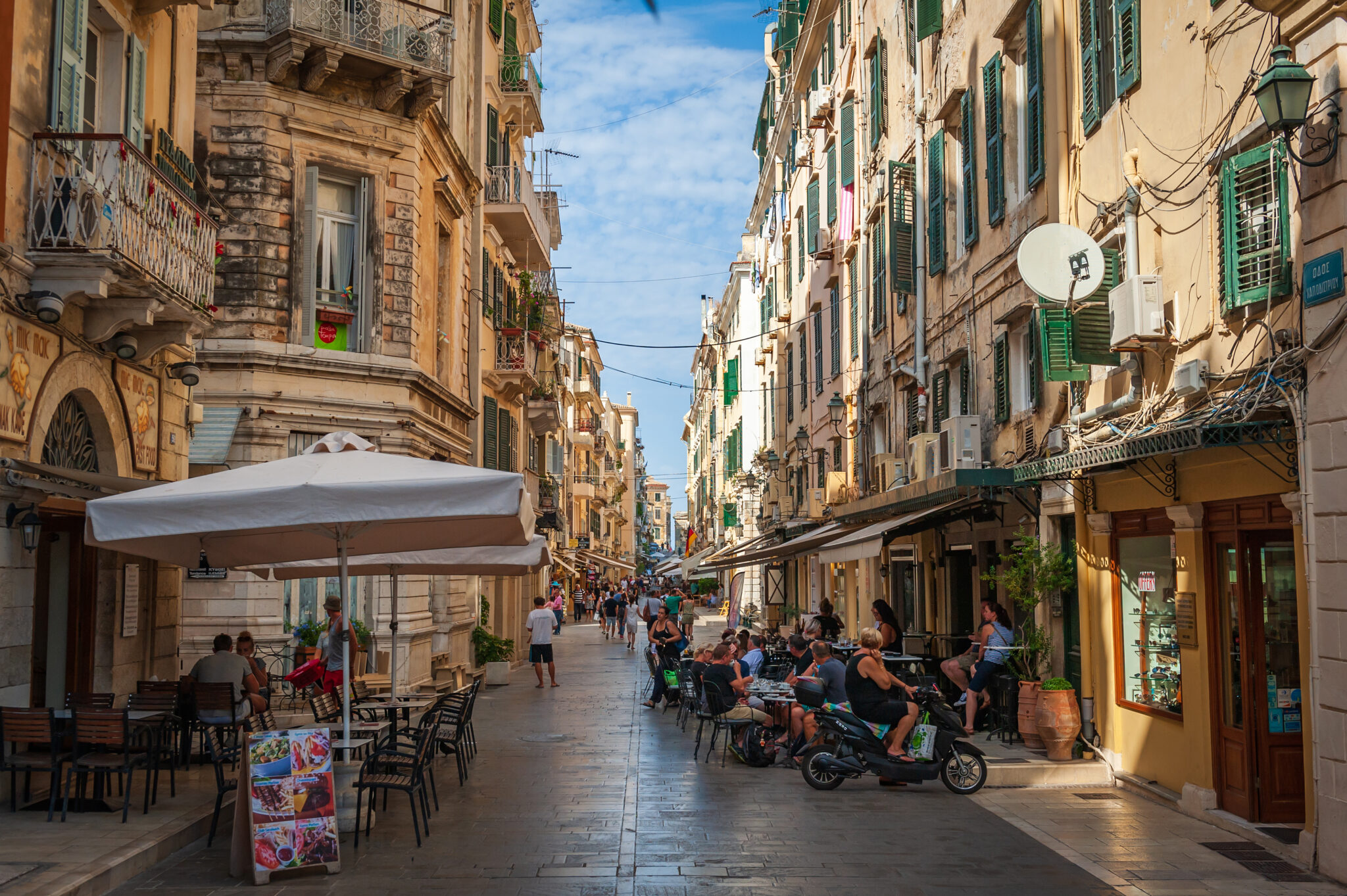 FAQ about travelling to Corfu in August
What is the weather like in Corfu in August?
In August, Corfu experiences warm and sunny weather with average temperatures ranging from 21 to 30 degrees celsius. It's the perfect time to enjoy the island's beautiful beaches and outdoor activities.
Is August a good time to visit Corfu?
Yes, August is a popular and favorable time to visit Corfu. The island is in full swing with vibrant events, bustling beaches, and a lively atmosphere. However, it's also the peak tourist season, so expect larger crowds and higher accommodation rates.
What are the best beaches to visit in Corfu in August?
Corfu boasts numerous stunning beaches to enjoy in August. Some popular options include Palaiokastritsa, Canal d'Amour, Agios Georgios Beach and Sidari. Each offers crystal-clear waters, sandy shores, and excellent facilities for sunbathing and water activities.
Are there any water sports activities available in Corfu in August?
Yes, there are plenty of water sports activities to enjoy in Corfu during August. Visitors can try jet skiing, parasailing, paddleboarding, snorkeling, and scuba diving, among others. Various coastal areas and beach clubs offer rentals and guided tours.
Are there any specific safety precautions to consider while visiting Corfu in August?
As with any travel destination, it's advisable to take general safety precautions in Corfu. Be mindful of your belongings, especially in crowded areas, and avoid leaving valuables unattended on the beach. Additionally, follow any safety guidelines provided for water activities and adhere to local rules and regulations.
What are the transportation options available for getting around Corfu in August?
Transportation options in Corfu include taxis, buses, car rentals, and scooters. Buses are an affordable way to travel around the island, with frequent routes connecting major towns and popular tourist areas. Car rentals and scooters provide more flexibility and the opportunity to explore remote areas at your own pace.
Are there any recommended day trips or excursions from Corfu during August?
Corfu serves as a gateway to other nearby islands and mainland destinations. Popular day trips include boat excursions to Paxos and Antipaxos islands, visits to the Albanian coast, and exploration of nearby Greek mainland destinations like Parga or Ioannina.
Are there any specific packing essentials for visiting Corfu in August?
When visiting Corfu in August, pack essentials such as lightweight and breathable clothing, swimwear, sunscreen, a hat, sunglasses, and comfortable walking shoes. Don't forget to bring a beach towel, insect repellent, and a reusable water bottle to stay hydrated in the summer heat.
Summary
Traveling to Corfu in August promises a fantastic experience. With its warm and sunny weather, the island is perfect for beach enthusiasts. While crowds are expected, there are still serene and peaceful beaches to enjoy. Exploring the cultural areas, such as the Old Town, offers a glimpse into the island's rich heritage. August is also a month filled with vibrant events and festivals, ensuring there's never a dull moment. If you're looking to plan your next yoga and adventure retreat, consider visiting Corfu in June, July, August, or October with us. Check out all of our upcoming retreats in Corfu and our guide on visiting Corfu in June for even more fun activities.