Ubud the Town of Bali, Top 9 Places to Eat
Ubud, Bali's food capital, has created a quality food culture that rivals anything in the world.
Firstly, not only can you find incredible food but Ubud puts pride into the experience too. Alongside local Warungs (meaning a small family-owned business) are world-class restaurants combining a fusion of Indonesian, Asian and Western tastes. Thus, on our yoga holiday to Bali in September 2021, we decided to spend the four nights that we are based in Ubud as a chance to explore and indulge in some of these incredible eating experiences! Honestly, narrowing it down to just 9 is a challenge! But here we go, our top places to eat in Ubud for every budget!
Herb Library
This beautiful restaurant prides itself on creating delicious plates of colourful joy on a plate! Furthermore, the setting is as magical as the dishes brought out to you. Amazingly, over 90% of all the ingredients they use are locally sourced and go from farm to plate within 24 hours. They boast an impressive selection of raw dishes, vegan, and vegetarian with carefully selected meat dishes. The average cost per main plate – £5.
Balinese Home Cooking
The name says it all really but, this is not home cooking as you may know it! Set within the private compound of a temple home surrounded by lush gardens, your hosts live and breathe their passion for both Bali and its food. They will happily take you on a tour of the gardens, introduce you to their home and teach you about the buildings and their religious significance. Every dish is created with real love and care and at only £2.50 a plate it's safe to say you will not be going hungry! They even create cocktails but request out of respect for the sacred space you are in, no more than two. The Gado Gado, Mie Goreng and the black rice pudding for dessert are a must!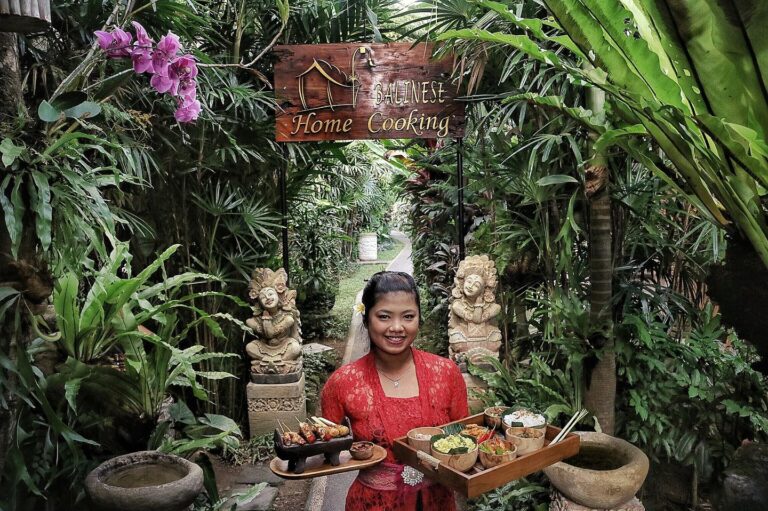 Moksa
Fully plant-based, Moksa prides its experience on creating a whole picture. Set within its own permaculture gardens they aim to create healthy food that inspires a sense of awe and creativity in both test and aesthetic. Their aim is to create a true sense of community in everything they do. Through their own farm, they also host regular workshops, social welfare engagements, films, and host discussions. You can also visit them for cookery classes or their twice-weekly farmers market! This is food for the body and soul. With a selection of raw and heated dishes, you will feel nourished inside and out! The Balinese Paella and Eggplant Rendang are something to experience but make sure you leave room for the passion fruit parfait! The average cost per main plate – £4.
Suka Espresso
Bali is renowned as a hub for the Aussie hipster crowd but we have learned if you follow them, chances are they will lead you to amazing coffee!! Suka Espresso is, in fact, Australian-owned with two locations in Bali, Uluwatu, and Ubud. The food is insanely good and the coffee is even better! Check out their Instagram to see just how photo-worthy it all is! A great place for breakfast, the smoothie bowls and chia jars are divine and the 'Early Burger'… so good. Average plate costs – £3 Coffee – £1.50.
Avocado Warung
As the name suggests, this warung celebrates the wonderful Avocado. Look, if you do not like them then let's be honest, this is not the place for you! However, if like us you are a big fan this is your avo dreams come true! The menu is as small and humble as the cafe, tucked down a gorgeous side street in a quieter part of town. Is it a gimmick? Maybe a little bit. But the food is amazing, the juices are fresh and it's lovely and quiet so it's a winner for us! Avo Burger costs roughly £3.
Alchemy
The concept behind the insanely hip and beautiful Alchemy is food as medicine. In fact, so much so, the chefs are called Alchemists creating beautiful raw, vegan dishes that delight both the eyes and the taste buds. We reckon that if enlightenment could be found through food then this is probably the gateway to take you there. Alongside colourful salads are medicinal soups ( the turmeric Laksa, amazing), large plates and cold-pressed juices. However, they are famed for their desserts! Raw chocolate truffles, puddings to die for, bars, and vegan ice creams that will make you tempted to have three courses of sweets! The average cost of the main dish – £4 Truffles – £1.20. Desserts of dreams – £3
Akasha
Part of the New Earth Haven is a venue like no other. Set out into the jungle and rice paddies is a series of bamboo buildings and structures that have to be seen to be believed. Vibrant and exciting yet still feeling earthy and connected, visiting Akasha is an experience in itself before the beautiful food has even arrived. The concept behind it was to create a world-leading example of bio-consciousness to enable the cultivation of a more conscious community, developed around pro-activism and 'solutioneering'. Yeah, it's as gloriously 'out there as it sounds. They host weekly ecstatic dance events as well as world-class live music. Oh, and yes the food is great! The average cost of the main dish – £6, the cost of joining the New Earth Revolution – is priceless.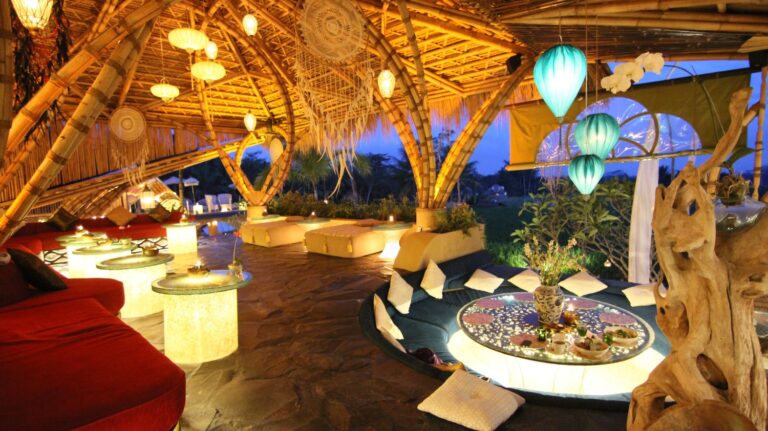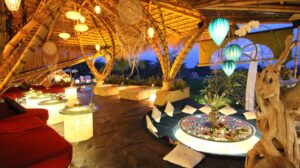 Murni's Warung
Murni began her Warung with just one table and four chairs out in the front of her house in the mid '70s. The woman herself is a local legend and from her humble beginnings has forged an empire that now includes her Warung, Tamarind spa (which is at her house), a guest house, and a shop! Her Warung is not your average family-owned restaurant. In fact, it now covers four floors down a hillside overlooking the river and lush greenery surrounding it. With two levels reserved for seating, one level for group celebrations and banquets, and one as a lounge bar there is something for everyone! The food is traditional, plentiful, and delicious. The peanut vegetable curry won't be winning any style awards but the flavour is amazing. Average main dish price – £3.
Sun Sun Warung
Last but not least, is Sun Sun. A diamond Warung serves up some of the best food on a budget around. The portions are large, the restaurant is tiny but spread out through the owner's home grounds and the service is great. Whatever you order, we are sure it won't disappoint. Even better is they do 'packages'. The main dish, side salad or spring roll, as well as a dessert AND tea, comes in at under £3. You will be doing double dinners just so you can get a taste of everything on offer.
So, there we have it! Honestly, this is just a tiny taste of the magical, culinary delights on offer! And more pop up every year.
September 2023, Adventure Yogi will be hosting our Bali Yoga Holiday where we will spend part of the trip in the vibrant and exciting town of Ubud. We will be enjoying our evening meals out and about, sampling some of the best that the city has to offer! Want to join us?