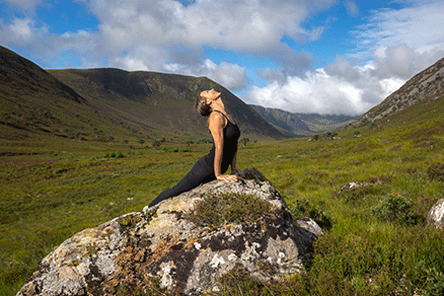 Laura Grace Ford
Laura Grace teaches in a way that empowers the individual to work with their own breath and body exactly how it is on any given day. Understanding that our bodies and minds are in a constant state of flux and learning to listen to the subtle winds that inform us what we need in that present moment.
Her own journey was based mainly on the Ashtanga lineage yet she now teaches a more rounded self-practice. She believes that learning yoga should be like having piano lessons, learning from different teachers and then embellishing what you have learnt from them into your own unique practice.
Laura Grace started her Ashtanga journey in 2008 having practiced Yoga on and off since the age of 14. She traveled to India to practice in the homeland in 2010 and spent four months of hard graft at Ashtanga Auroville with Monica Marinoni. She continued on to Sri Lanka to practice with Kathy Cooper. She returned to Europe and completed her Teacher Training at Ashtanga Yoga Paris with the inspiring Gerald Disse and Linda Munro. Maui called her and she went to train for 3 months with Nancy Gilgoff immersing herself in the second series and attentively learning from one of the most senior teachers in the lineage.
Laura teaches in a way that is soft and supporting, moving at your own pace and building strength and stamina at a speed that each individual is comfortable with. She believes strongly that is a personal practice and one that has to be tailored to fit each person.
Yoga is a pleasure and not a chore…… Always.